I haven't really told the story of Never Astray yet, so here goes.
I wanted a map for emergency preparedness. I couldn't find any that I liked. So, I made my own map.
Most of the beginning can be chronicled via my Reddit posts. My first question was:
"I want to make some local maps for both bug in and bug out scenarios. Does anyone have some guidelines around how much detail my maps should have and how much area they should cover? I don't have a specific bug out location."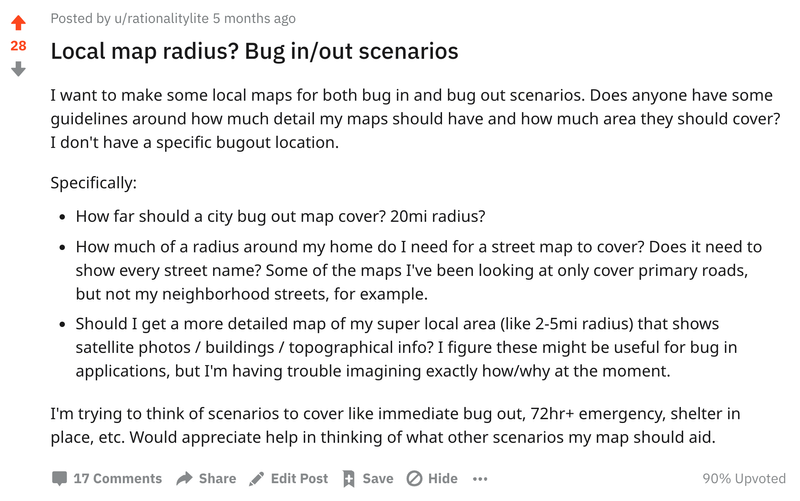 A month later after I had ordered everything that people mentioned, I was not thrilled with what I received, and made my own: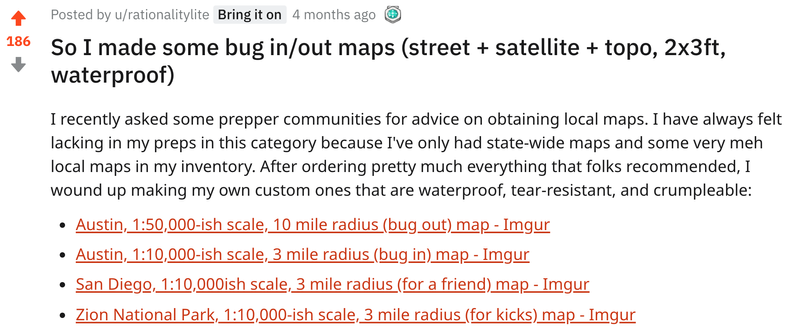 So I made some bug in/out maps (street + satellite + topo, 2x3ft, waterproof) : preppers
It was an overall positive reaction and a few redditors contacted me to make maps for them. I made some and they really enjoyed the product:

I started building a website, the one you're on right now, to do a minimum viable product, which was for pre-made city maps. I didn't have time yet to build the full app that would let people make a custom map, but I figured I might find some folks who would take a city one if I covered enough major population centers. I sold a few, got more good feedback, and continued to make custom ones for redditors and people I had met on other forums using coordinates and addresses they sent me.
Custom maps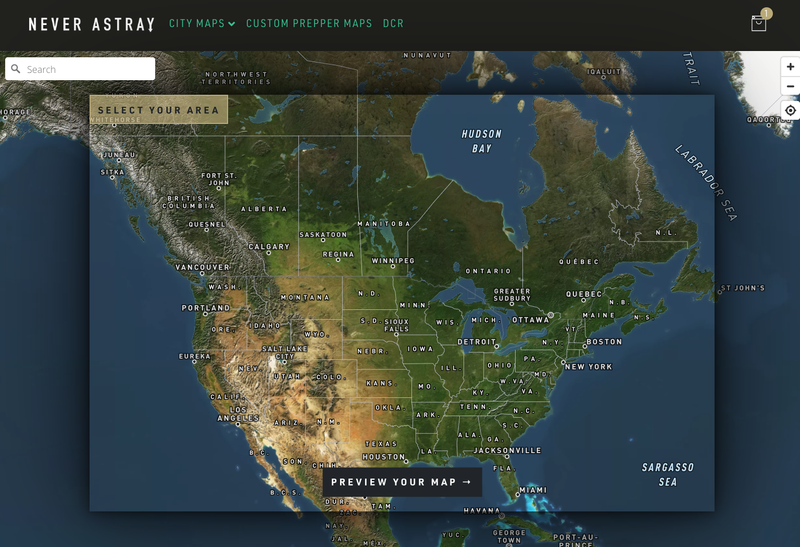 Custom maps were always the primary goal of the Never Astray project. I wanted people to be able to make maps like I had made for myself, completely with their own specifications. Nobody has the same goals. Some people want a bug out map, some want a map of their property or neighborhood, some want maps of multiple locations.
To be very honest with you, I am not a great programmer. My background is in technology, but my focus has always been front end, user experience, and content management. I'm a hacker, not an engineer.
The first foray into building the custom prepper maps product was hiring a more experienced coder to build it for me. In short, it was a miserable failure. The app didn't work the way I needed it to and I had spent way too much money paying someone else to do it. So I sat down and, after learning several new programming skills, coded it on my own. Lesson learned, if you can possibly do something yourself you probably should at least try it first.
Anyway, I launched it and people started liking the custom maps: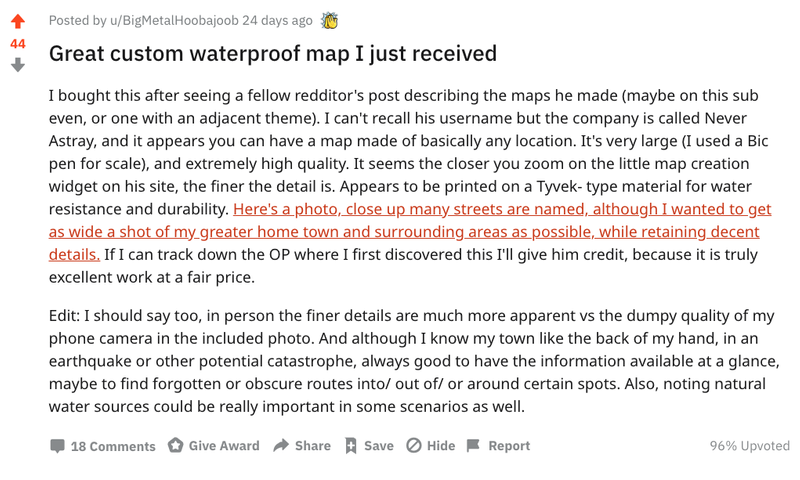 Not a cartographer
My background is not in GIS, cartography, or land navigation. I'm a user experience consultant and coder. The Never Astray maps reflect this - I wanted to build a map that anybody who can use Google Maps could figure out. I want your family members to be able to use these, not just land navigation experts. Many of the early customers ordered several at a time and indicated to me that each of their family members has one, so I consider this part to be a success.
The future of Never Astray
The maps will get better over time. I will add features as it makes sense. If you have an idea for a map feature you'd like to see, email me. Expect deep discounts when new features are released if you have already purchased a map - I want it to make sense for people to be able to upgrade to the latest and greatest version.
I will keep writing on the topic of preparedness in this blog, but probably not in the same fashion as most other prepper websites. I will be writing and updating on the topics of technology, sociology, and politics (I'll tread lightly) as it relates to prepping. I will cover alternative strategies and philosophies of preparedness. On this blog you will not find things like "The top 10 guns for TEOTWAWKI" or "Best items to hoard for the apocalypse".
Ultimately, if everyone had a map, we would all be better off. Access to navigation is a cornerstone of civilization - it enhances our overall efficiency as a group. I'm going to do everything I can to get these in the hands of lots of people because I believe that a prepared world makes us all safer, collectively. I hope that my contribution can make a difference.
If you want to follow what Never Astray is up to, subscribe to the email list.